Best Butterfly Releases

The finest local Butterfly Releases. Request quotes today from Butterfly Releases or simply browse listings below.


Butterfly Releases for commercial or corporate events you may also call us at 1-800-232-6874 ext 7 (commercial only)


Save Time! Request Free Quotes: Butterfly Releases

Serving Nationwide!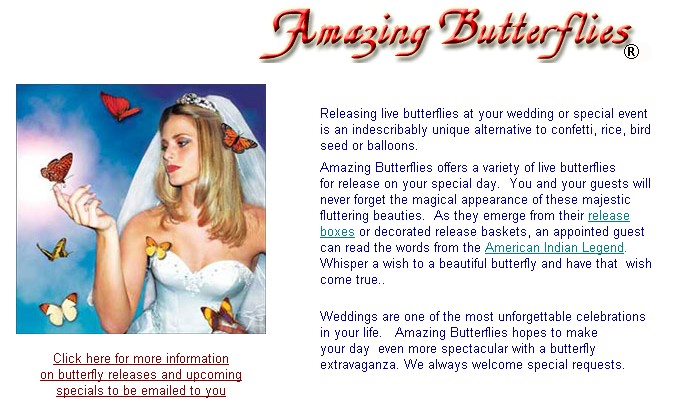 Butterflies for weddings and all types of occasion. Click for butterfly information.

Approximate Prices: Butterfly Releases
Search Products and Services
Home:

All Products-Services

wedding planning bridal gowns dresses

and similar products-services
for Canada click here





Menu -



Approximate prices:Approx Rates: USA - Monarchs 75-115/ for 1-2 dozen + 40-50 shipping overnight....more pricing information...



Menu - Show Butterfly Releases listings






Quick Quotes Right Now from Butterfly Releases!
For locations not listed above, WE will do searching for vendors for free
Please request quotes below


Quick Quotes Right Now from Butterfly Releases!

Home: Event Planning






Additional local businesses in nearby states: (additional transportation charges might apply for some.):











Our Butterfly Releases are featured in many cities across the country including Anchorage, Chandler, Phoenix, Scottsdale, Little Rock, Burbank, Fresno, Lake Tahoe, Los Angeles, Napa Valley, Orange County, Palm Springs, San Francisco, Colorado Springs, Denver, Vail, Hartford, District of Columbia, Boca Raton, Jacksonville, Miami, Naples, Orlando, Tampa Bay, West Palm Beach, Atlanta, Honolulu, Oahu, Chicago, Indianapolis, Des Moines, Kansas City, Louisville, Baton Rouge, New Orleans, Portland, Baltimore, Boston, Detroit, Minneapolis, Twin Cities, Hattiesburg, Kansas City, St. Louis, Bozeman, Great Falls, Lincoln, Omaha, Lake Tahoe, Las Vegas, Reno, Dartmouth, Hoboken, Jersey City, Albany, Buffalo, Long Island-Nassau County, Long Island-Suffolk County, Long Island-The Hamptons, Manhattan, New York City, NY City, Rochester, Charlotte, Durham, Greensboro, Williston, Cincinnati, Cleveland, Oklahoma City, Tulsa, Portland, Philadelphia, Pittsburgh, Poconos, Providence, Charleston, Hilton Head, Myrtle Beach, Sioux City, Knoxville, Memphis, Nashville, Austin, Dallas, Fort Worth, Houston, San Antonio, Salt Lake City, Middlebury, Arlington, Richmond, Roanoke, Seattle, Spokane, Vancouver, Charleston, Eau Claire, Green Bay, Milwaukee, Superior, Cheyenne, Jackson Hole, and over 300 smaller cities too.