Motorcoach rental in Providence RI Rhode Island - Motorcoach rental for corporate or commercial events Providence
Motorcoach rental near Providence, RI.
Motorcoach rental for your corporate, wedding or special event Rhode Island Providence.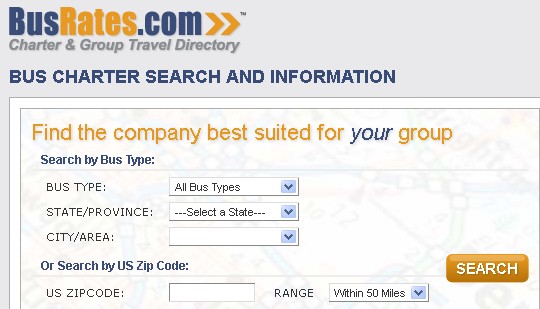 BusRates.com - A great way to find a charter bus for your corporate or special event.

Sentinel Limousine -
Manville, Rhode Island serving Providence
Motorcoach rental. - Providence
.
401 765-5595
We take pleasure in providing our customers with Quality Chauffeured Transportation with Lincoln Town Car Sedans, Limousines, 14 Passenger Shuttle Vans, Executive Transporters, and an 18 Passenger Limobus. Specializing in Corporate, Airport, and Event t
Motorcoach rental for your Providence RI Rhode Island corporate event, wedding or private events.
Motorcoach rental serving Providence, Rhode Island
---
To easily search for more vendors we suggest searching for

Motorcoach rental Providence
Custom Search
---
BEST option is to request quotes at the top of this page

Additional vendors who may service Rhode Island
(additional transportation charges and minimum budget requirements may apply):
Limo U.S. International -
Motorcoach rental. - Providence
.
734 309 0011
Limo U.S. International provides Worldwide airport car, airport taxi metro, airport transportation metro, taxi, limo first class, reliable and affordable service for all types of occasions.
Donna Vessey Entertainment, LLC -
Motorcoach rental. - Providence
.
1-866-360-8496
Donna Vessey Entertainment is a full service event and entertainment planning and site management company. We take all the worry and stress out of planning any event from the company holiday party to your wedding. We take care of every detail from catering to the band and decor. Outdoor corporate bar be que with tents, tables, chairs and porta bathrooms. We work the entire United States. No event too big or too small.
Deuce Personal Lifestyle Management -
Motorcoach rental. - Providence
.
215-878-6042
We offer an unlimited range of services for busy people who want to enjoy their lives. Members can call, email or fax their requests, and a lifestyle concierge will get back to them with recommendations from our A-list suppliers who have been carefully ch
Kre'ashens Event Design, Incorporated -
Motorcoach rental. - Providence
.
(917) 359-3930
Kre'a shens Event Design, the event management company of the future understands the impact an event can have on a company's image. Kre'a shens will enhance your company's image & brand by crafting premier events & client entertainment. These careful
All Star Limousine and Land Yachts -
Motorcoach rental. - Providence
.
510-733-5466
Providing Limo Buses, Limo Coaches, Land Yachts, Entertainer Coaches and Day Coaches to San Francisco, San Jose, Napa, & Monterey.
BC Transportation Group -
Motorcoach rental. - Providence
.
212 564 9700
BC Transportation Group is proud of our reputation for providing safe, reliable ground transportation since 2000. Backed by years of proven excellence, reliability, and professional service we have become the number one choice of leading corporations and
Always Creative -
Motorcoach rental. - Providence
.
702-307-8111 x 2
Quality, performance , service and competetive pricing.
For
corporate event requests with over 300 guests or over $5000.00 you can call us at 1-800-232-6874 ext 7 (commercial events only, not non-profit)
Search Yahoo for Motorcoach rental Rhode Island Providence
Search BING for Motorcoach rental Rhode Island Providence
*all prices shown are approximations. Your exact price will vary based on date, time, quantity, location, and other factors.
Event planning by state
- Popular Categories:
Audio Visual Rentals
-
Audio Visual Production
-
Caterers
-
Entertainment-Entertainers-DJs-Live Music-Bands
-
Halls, Venues to host your event
-
Inflatable and interactive games
-
Party Rentals, Tent Rentals
-
Motivational and Keynote Speakers
-
All Event Planning and Party Planning Categories
Vendors/Talent/Businesses/Entertainers-
List your business here
© 2013 All Time Favorites
4C-0.533072948456