Portable Toilet Rental Meridian Portable Toilets Rentals Meridian MS Mississippi
Meridian Mississippi Portable Toilet Rentals . Click on get quotes to easily get back quotes by email or phone on Portable Toilet Rentals for events or construction needs.
---
NOTE: for upscale, VIP and Executive rentals see the similar categories link on the left of this page
---
Temporary Restrooms - Portable toilets - Porta-Jons - Construction toilets for rental daily, weekly or monthly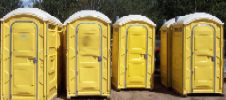 Referrals to Meridian Mississippi Portable Toilet Rentals, Portable Toilets for rent.
Approximate prices:Approx Rates: (construction site rental quality) 1 unit for 10 people per month cleaned weekly is about 100-225 per month. Weddings 1 day rentals are from $100-200/day each unit. Ones with water $300-500/day Executive: air-conditioned $500-1500 a day
...
...more rates for Portable Toilet Rental

.
simply ribs and catering -
Ellisville, Mississippi serving Meridian
Portable Toilet Rental. - Meridian
.
601 319-0611
Simply Southern Catering is a complete corporate catering service with services available from simple corporate functions to disaster management services. Simply Southern does a complete range of food products and services for up to 10,000 people per meal. We can provice all tents, chairs, tables, portable restroom, shower units, sleeping quarters, and transportation needs for any size event Our local website address is (website).
Additional local businesses nearby
(additional transportation charges might apply for some of these):
United Site Services -
Westborough, Massachusetts serving Meridian
Portable Toilet Rental. - Meridian
.
800-864-5387
United Site Services is the nations leader in portable
toilet
rental. With more than 55 locations coast to coast we are the most capable provider of quality portable restroom rentals and temporary fence rentals. Our fast and friendly customer service gives you peace of mind from expert planning to accurate delivery and quality service. Rely on us for your portable sanitation needs.
Pot O Gold Rentals, Inc. -
Hammond, Louisiana serving Meridian
Portable Toilet Rental. - Meridian
.
888-768-6465
Pot O Gold is the preferred portable
toilet
/restroom vendor in the Gulf South. We provide services from everything from Mardi Gras in the City of New Orleans to large festivals and parties. We also provide emergency/disaster services and can travel if needed.
Find local Meridian Portable Toilet Rentals
easily with our Portable Toilets Rental listings below.
Portable Restrooms - Porta potty - jonny rentals and more is the words people use to find these items.
The best way to get quotes from our hundreds of locations nationwide is to click near the top of this page to request quotes
Portable Toilet Rental serving Meridian, Mississippi
---
To easily search for more vendors we suggest searching for

Portable Toilet Rental Meridian
Custom Search
---
Other businesses that may be able to assist for your event near you


(additional transportation charges and minimum budget requirements may apply):
McComb Rent-All -
McComb, Mississippi
Portable Toilet Rental. - Meridian
.
601-684-5622
We provide excellent service with excellent prices.
For
corporate event requests with over 300 guests or over $5000.00 you can call us at 1-800-232-6874 ext 7 (commercial events only, not non-profit)
Search Yahoo for Portable Toilet Rental Mississippi Meridian
Search BING for Portable Toilet Rental Mississippi Meridian
*all prices shown are approximations. Your exact price will vary based on date, time, quantity, location, and other factors.
Event planning by state
- Popular Categories:
Audio Visual Rentals
-
Audio Visual Production
-
Caterers
-
Entertainment-Entertainers-DJs-Live Music-Bands
-
Halls, Venues to host your event
-
Inflatable and interactive games
-
Party Rentals, Tent Rentals
-
Motivational and Keynote Speakers
-
All Event Planning and Party Planning Categories
Vendors/Talent/Businesses/Entertainers-
List your business here
© 2013 All Time Favorites
4C-0.651000976562