Peoria Illinois Portable Toilet Rentals
A-Awesome Amusements Co. 'Your Event Partner' -
Contact
We are your EVENT PARTNER! Our focus is on providing the newest & cleanest equipment for your event. Trained professional staffing ready to assist you 24 hours a day. From planning to running your event. 'It's Our job To Be Better Than The Rest' We live up to this at every event we go to. We offer discounted party packages if you are on a limited budget.
Find local Peoria Portable Toilet Rentals
easily with our Portable Toilets Rental listings below.
Portable Restrooms - Porta potty - jonny rentals and more is the words people use to find these items.
The best way to get quotes from our hundreds of locations nationwide is to click near the top of this page to request quotes
Click on get quotes to easily get back quotes by email or phone on Portable Toilet Rentals for events or construction needs.
---
NOTE: for upscale, VIP and Executive rentals see the similar categories link on the left of this page
---

Temporary Restrooms - Portable toilets - Porta-Jons - Construction toilets for rental daily, weekly or monthly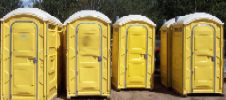 Additional local businesses in nearby states: (additional transportation charges might apply for some of these):


MICKEY K's Portable Toilets -

-

Contact

- bonne terre, Missouri serving Peoria Offering a clean and well-maintained portable

toilet

rental solution for any occasion. We have a variety of units available to accommodate all your needs. The units we offer are suitable for big or small occasions. We also offer portable hand washing sinks and ADA accessible units.

Number One Portables -

-

Contact

- Brookfield, Wisconsin serving Peoria Number One Portables is the leader in quality and service in the Milwaukee Area. We provide portable restrooms, hand wash stations, and small restroom trailers for all size of events. We have a large variety of equipment to meet your needs.

Golden Openings, Inc. -

-

Contact

- Urbandale, Iowa serving Peoria We are a one of a kind business that organizes all of the details for your Grand Opening, Ground Breaking or special event. We have the life-size scissors that really cut, new business banners to rent, official ceremonial ribbon, decorations, catering, large inflatable balloons, mailing labels of all businesses and residents in your area, celebrities, invitations and more!





serving Peoria, Illinois
To easily search for more vendors we suggest searching for

Portable Toilet Rental Peoria
Custom Search
Search Yahoo for Portable Toilet Rental Illinois Peoria
Search BING for Portable Toilet Rental Illinois Peoria