All Time Favorites - One Source for All Your Event Planning Needs
Honolulu Hawaii Portable Toilet Rentals

Honolulu Portable toilet rentals range from about 55 for construction work toilets, to 75 to 100 dollars per day for party rentals type toilets. We also have running water portable toilet rental from about 150-250 per day and air conditioned units from about 1500-2200 for a 4 stall trailer.


Request Free Quotes: Portable Toilet Rentals

Approximate Prices: Portable Toilet Rentals


Honolulu Hawaii Portable Toilet Rentals listings (scroll down)






Please mention to the businesses that you found them on www.alltimefavorites.com so you get the best prices.

---additional business listings---


Vip Sanitation Inc (808) 455-7626


Pacific Jet-O-Matic Services Kapolei, HI (808) 682-1066 Not recommended. difficult to deal with on the phone and even when we as an event planner wanted to hire them for other events they said they do not work for third parties. I do NOT recommend them.


Paradise Lua (808) 690-8116


Chemi-Toi Kapolei, HI (808) 682-2466


A\'s Party Portables Waianae, HI (808) 668-6362


Coastline Hauling Services Hauula, HI (808) 293-9822


Kia Pumping LLC Waianae, HI (808) 668-1009





Find local Honolulu Portable Toilet Rentals
easily with our Portable Toilets Rental listings below.
Portable Restrooms - Porta potty - jonny rentals and more is the words people use to find these items.
The best way to get quotes from our hundreds of locations nationwide is to click near the top of this page to request quotes
Click on get quotes to easily get back quotes by email or phone on Portable Toilet Rentals for events or construction needs.
---
NOTE: for upscale, VIP and Executive rentals see the similar categories link on the left of this page
---

Temporary Restrooms - Portable toilets - Porta-Jons - Construction toilets for rental daily, weekly or monthly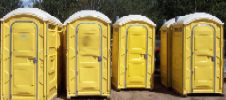 Approximate prices:Approx Rates: (construction site rental quality) 1 unit for 10 people per month cleaned weekly is about 100-225 per month. Weddings 1 day rentals are from 100-200/day each unit. Ones with water 300-500/day Executive: air-conditioned 500-1500 a day
...more pricing information...

Free quotes from Honolulu Portable Toilet Rentals!
Event Magic
Oakland, California Event Magic is the one stop shop for all of your event rentals and services. We have top of the line equipment with excellent service. Please call Eddie for a free quote.
A UNIQUE PRESENTATION
Los Angeles, California Shelly Balloon and her crew at A Unique Presentation have been creating fun events since 1979. They have anything you need for your special event and at competitive prices. They are VERY easy to work with.
A and J portable restroom rentals
COSTA MESA, California A and J portable restroom rentals is a locally based Southern California restroom rental company. We are dedicated to providing the highest quality restrooms and customer service. Whether you are in need of one restroom or one hundred then you can count on us
ASD Party Rentals
Los Angeles, California honest, reliable, on time service, very clean equipment, affordable prices.
1st Jon Inc
Brea, California If world class customer service with the most modern equipment is important than 1st Jon Inc is for you. With over 50 years of industry experience 1st Jon can meet your needs with 1 phone call. From 1 unit for a back yard party to a large event needing more than 100 restrooms we can help you
NextArts
San Francisco, California NextArts is a full service event management production company. Sound, stage, lights, drape, decor, dance floor, choral risers, wireless microphones, video recording, event planning and much more.
Royal Restrooms
Glendora, California Royal Restrooms provides private restrooms anywhere from a 50 person party to a 3000 person event. All restrooms feature private stalls with flushing
toilet
s, running sink water, flowers, mints, A/C and heat, ect. It will be the hit of the party!!!
Area Restroom Solutions
Roseville, California Area Restrooms provides premiere restrooms that will exceed your past portable restroom experiences.
JAM ENTERTAINMENT AND EVENTS
Costa Mesa, California JAM Entertainment & Events is a FULL SERVICE licensed Talent Agency and Event Planning Company that has been providing the finest in Talent and Related Services to bring your Event to life with Fresh Ideas. MISSION STATEMENT From Concept to the Completion, JAM ENTERTAINMENT & EVENTS will be an integral part of the process in order to ensure your successful events
Caterman Catering
San Jose, California Caterman Catering and Event Coordination is one of the leading services in California. Competitive prices for catering, entertainment and event coordination in all of California.
Best Find local Honolulu Portable Toilet Rentals easily with our Portable Toilets Rental listings below.
Portable Restrooms - Porta potty - jonny rentals and more is the words people use to find these items.
The best way to get quotes from our hundreds of locations nationwide is to click near the top of this page to request quotes
Click on get quotes to easily get back quotes by email or phone on Portable Toilet Rentals for events or construction needs.

---

NOTE: for upscale, VIP and Executive rentals see the similar categories link on the left of this page

---


Temporary Restrooms - Portable toilets - Porta-Jons - Construction toilets for rental daily, weekly or monthly



Portable Toilet Rentals Honolulu, Hawaii
To easily search for more vendors we suggest searching for

Portable Toilet Rentals Honolulu
Custom Search
Search Yahoo for Portable Toilet Rental Hawaii Honolulu
Search BING for Portable Toilet Rental Hawaii Honolulu