Portable Toilet Rental Tampa Bay Portable Toilets Rentals Tampa Bay FL Florida
Tampa Bay Florida Portable Toilet Rentals . Click on get quotes to easily get back quotes by email or phone on Portable Toilet Rentals for events or construction needs.
---
NOTE: for upscale, VIP and Executive rentals see the similar categories link on the left of this page
---
Temporary Restrooms - Portable toilets - Porta-Jons - Construction toilets for rental daily, weekly or monthly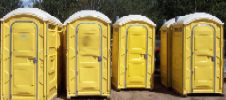 Referrals to Tampa Bay Florida Portable Toilet Rentals, Portable Toilets for rent.

Approximate prices: Approx Rates: (construction site rental quality) 1 unit for 10 people per month cleaned weekly is about 100-225 per month. Weddings 1 day rentals are from $100-200/day each unit. Ones with water $300-500/day Executive: air-conditioned $500-1500 a day
Portable Toilet Rental

T&M Portable Restrooms, Inc -
(LaBelle, Florida serving Tampa Bay) We are one of the largest independently owned portable restroom company in Florida. We have been in the industry over 10 years and have an extensive client list. We sincerely care about our customers. We offer 24/7 emergency service. Please visit our website for more information.
Bigtentsanddomes.com -
(Coral Springs, Florida serving Tampa Bay) We are the largest used clear span tent dealer on the internet. We rent and sell tents and we do event productions of all types and have speakers and entertainers as well. We have everthing for events, and that does mean everything at our disposal. We can do any size event all the way to stadium levels.
Minimum to hire: $ 3000.00
simply ribs and catering -
(Ellisville, Mississippi serving Tampa Bay) Simply Southern Catering is a complete corporate catering service with services available from simple corporate functions to disaster management services. Simply Southern does a complete range of food products and services for up to 10,000 people per meal. We can provice all tents, chairs, tables, portable restroom, shower units, sleeping quarters, and transportation needs for any size event Our local website address is (website).
Find local Tampa Bay Portable Toilet Rentals
easily with our Portable Toilets Rental listings below.
Portable Restrooms - Porta potty - jonny rentals and more is the words people use to find these items.
The best way to get quotes from our hundreds of locations nationwide is to click near the top of this page to request quotes
Portable Toilet Rental serving Tampa Bay, Florida
G2-
---
To easily search for more vendors we suggest searching for

Portable Toilet Rental Tampa Bay
Custom Search
---
Other businesses that may be able to assist for your event near you


(additional transportation charges and minimum budget requirements may apply):
The Game Gallery -
(Tampa, Florida) Complete Arcade Game Rentals. We Do All The Work. You Have All The Fun. Call Us 1-800-966-9873
ShutterBooth Photo Booth Rentals -
(Tampa, Florida) ShutterBooth is the Premier Photo Booth Choice for the Metro Tampa Bay & Orlando area. Our photo boots are chic and modern. Our photo quality is amazing. Guests will have the time of their lives going into our photo booth, touching the screen and taking fun pictures. We will custom each photo with your personal logo/text design. Creat precious, fun and hilarious memories with a photo booth from ShutterBooth!
Deluxe Celebrations -
(Lakeworth, Florida) We are a Full event service Company.
Premier Event Productions -
(Weston, Florida) -
All Events South Florida, Inc -
(Davie, Florida) All Events South Florida, Inc is your one stop for all your planning needs. We can assist you design your wedding/event to planning the entire process. Contact us today for a complimentary consultation.
Events R Us Inc. -
(Boca Raton, Florida) Over 20 years in the Entertainment field, over 15 in the Event Planning & Procuring field. Excellent package prices!
A Fabulous Affair Event Planning -
(Ellenwood, Georgia) A Fabulous Affair Event Planning is a full service event planning, catering, bartending & travel firm dedicated to providing you with top level service. We work on events big and small and with every budget.
Good Times Party Rental -
(Miami, Florida) Good Times Party Rental is a party equipment rental company located in Kendall Miami, FL. We offer a variety of equipment and entertainment for your upcoming event like bounce houses, slides, concession stands cotton candy machines, popcorn machines, snow cone machines and more. We are committed to delivering good times.
The Chiavari Chairs Boutique -
(miami, florida) $4 chiavari chairs, south florida most exclusive linens
For
corporate event requests with over 300 guests or over $5000.00 you can call us at 1-800-232-6874 ext 7 (commercial events only, not non-profit)
Search Google for Portable Toilet Rental Florida Tampa Bay
Search Yahoo for Portable Toilet Rental Florida Tampa Bay
Search BING for Portable Toilet Rental Florida Tampa Bay
*all prices shown are approximations. Your exact price will vary based on date, time, quantity, location, and other factors.
Vendors/Talent/Businesses/Entertainers-
List your business here
© 2013 All Time Favorites
4C-0.350929021835