Florida Keys Florida Tent Rentals

Over 1300 tents available in most cities across the USA and Canada. Free referrals to local Florida Keys tent rental companies. For larger commercial events please call us at 1-800-232-6874 extension 7. For smaller events under 300 people please use the quick quote request form on the link on this page. We have pole tents, clearspan (no pole) tents, and tenting for any size event. Our rental tents are used for city festivals, corporate events, weddings and private parties.


For commercial or corporate events you may also call us at 1-800-232-6874 ext 7 (commercial only)
Event Tents
There are a variety including frame, custom, pole, heated, cooled tenting available for indoor and outdoor events.
Rent a tent for your next event. Tents can be climate controlled if it is too hot outside or too cold. They come in all different sizes from clear-span (no poles in the middle) to pole tents.

Main Menu : Navigation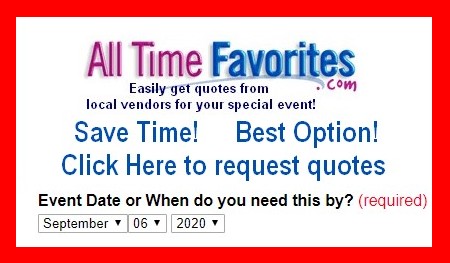 Free quotes from Florida Keys Tent Rentals!
TITAN MAGIC
-
Contact
Tent Rentals - Florida Keys Florida
TITAN MAGIC is the largest magic shop in alabama and the fist mobil magic shop in the usa WE at TITAN MAGIC are the one stop shop for shows and sales I AM THE LARGEST MAGIC DEALER IN ALABAMA!! ***** KIDS BIRTHDAY OR ANYTIME SHOWS ***** make your child or loved one the star of the show!! JC TITAN is perfect for entertaining a group of young or mature party-goers with his comedy magic
Bounce and Rides
-
Contact
Tent Rentals - Florida Keys Florida
Bounce and Rides is the leader in inflatable rentals, mechanical ride rentals, and carnival game rentals. We have a huge selection of party rentals such as
tent
s, tables, chairs, dance floors, stages, concessions, and much more. Need us to staff an event? Need the big, cool stuff? We've got you covered. We provide professional event planning and production services for community and corporate events, church and school events, graduations, private parties, and more
Event Concierge Group
-
Contact
Tent Rentals - Florida Keys Florida
Our can do attitude is what makes the difference. Working with us brings you full access to years of established relationships, saving you both time and money. Each event is unique through customization based on what you, the client, tells us.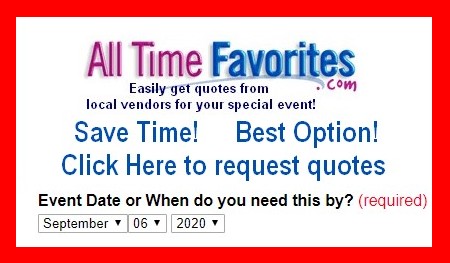 Free quotes from Florida Keys Tent Rentals!
Approximate prices for Tent Rentals
- Over 2000 tent rental companies on file here at All Time Favorites: 25 people (no sides) simple tent 200.00/day 150 people 60x80 ft pole tent 1500 300 people 80x120 tent clearspan (no poles) 3000
COMPLETE LIST of approximate Tent Rental Prices Here



Wedding Tent Rental
Easily locate elegant wedding tents for rent for your event. We have hundreds of companies to pick from across the nation.
We can also help you locate frame tents, clearspan, pole tents, tent lighting, tent flooring, and popups for your next event.
National rental resources: Rental HQ- American Rental Association - Nationwide
United Rentals - Nationwide



Tent Rentals Florida Keys, Florida

Related Categories




Menu - General Prices - Show Tent Rentals listings









Based on over 20 years of searching for vendors, please click the following links and you should be able to find additional vendors in the search results

All the searches below are related to finding Tent Rentals in Florida Keys Florida



---

More ways to find Tent Rentals in Florida Keys Florida

Please tell the vendors you find on the links below that you found them from alltimefavorites.com Thank you


tent rentals Florida Keys Florida (referred by www.alltimefavorites.com)



Google Search: tent rentals Florida Keys Florida

Videos of: tent rentals videos Florida Keys Florida

General Photos of: tent rentals photos Florida Keys Florida
Please tell the vendors you find on the links below that you found them from alltimefavorites.com Thank you


wedding tent rentals Florida Keys Florida (referred by www.alltimefavorites.com)



Google Search: wedding tent rentals Florida Keys Florida