Omaha Nebraska Video production services
- referrals to local Omaha Video production services in NEApproximate Prices for Video production services

National Sponsor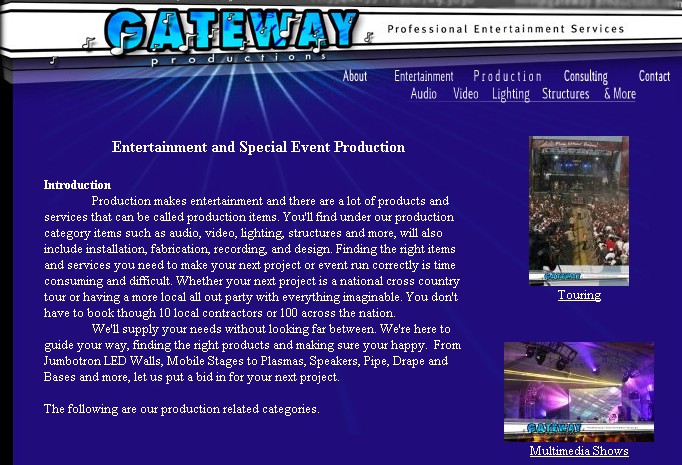 Large Event Production across the USA (minimum budget required $9999)
Before hiring a video production service, check their references and copies of recent projects.
Mack Media Productions - Phone#

-
website
Mack Media is a full service video production company. We specialize in CD,DVD duplication, Tape to DVD transfer, CD-ROM development, streaming media solutions and much more. We deliver competitive pricing and exceptional service. Please contact us to see how we can provide a video production solution for you or your business.
...more vendors providing Video production services nationwide
Video production services serving Omaha, Nebraska
Divine Productions - Phone#
(McCook, Nebraska serving Omaha) -
website
Divine Productions is a full service DJ, Videographer, and Photographer. By combining all services, we can do what no one else can do, and we are good at it! Give us a call today.
Donner Digital Photography - Phone#
(Omaha, Nebraska) -
website
Donner Digital Photography specializes in digital photography. With digital photography we can create outstanding portraits, commemorate any event and capture all those special moment you want to cherish for a lifetime. We provide photographic and video services, web design, graphic design and multi-media presentations.
Elite Edge Productions - Phone#
(Minneapolis, Minnesota serving Omaha) -
website
Elite Edge Productions specializes in memory and highlight videos for a variety of clients who wish to capture and cherish the important moments of a special event. We focus on sporting events, arts and entertainment, special events, and corporate functions by editing footage with the latest special effects, music, and new ideas.
Centripetal Productions - Phone#
(Denver, Colorado serving Omaha) We don't just shoot videos for a living--we are also award-winning filmmakers and video production educators who will put our originality and artistry to work for you. Our style is modern, music-friendly, and original. When it comes to creating your wedding, event, or corporate video, we aren't stuck on a formula--we're always looking for ways to make your video truly fabulous, and a unique expression of who you are.
Additional local businesses nearby
(additional transportation charges might apply for some of these):
Memory Imprint Studio - Phone#
(Rancho Cucamonga, California serving Omaha) -
website
Memory Imprint Studio specializes in 3D wedding photo montage,picture slideshow with music,photo restoration, wedding photo album design, video editing and video production for birthday party, weddings invitation and reception, anniversaries, graduations, retirement, memorial services, and all your celebrated moments. We are dedicated to transferring your memories from progressively degrading tapes and negatives into treasured keepsakes.
Tri State Video Service - Phone#
(Spearfish, South Dakota serving Omaha) -
website
We pride ourselves as a locally owned and orperated production company where we curtail out productio to the desires of the individual customer. We are a full line production company where no job is too big or too small.
Pure Energy Events (DJs, AV Rentals, AV Production & More) - Phone#
(Fort Collins, Colorado serving Omaha) -
website
PURE ENERGY EVENTS provides the best in high quality, reliable and personalized entertainment and event services. From wedding receptions to corporate & teen parties, Pure Energy Events will deliver the ultimate party with the best variety in music. All on the highest quality sound, light & video equipment to date.
View many local Omaha Nebraska Video production services and Video production services right from this page for your NE event.
---
To easily search for more vendors we suggest searching for

Video production services Omaha
Custom Search
---
BEST option is to request quotes at the top of this page

Additional vendors who may service Nebraska
(additional transportation charges and minimum budget requirements may apply):
Harvey Video & Photography LLC - Phone#
(Toms River, New Jersey) -
website
Personalized professional photography and video services that are second to none. Using the latest in digital technology.
Events Production Resources AV - Phone#
(warwick, Rhode Island) -
website
Quality Video for a reasonable price
Technical Video Inc - Phone#
(schenectady, new york) -
website
Offering professional audio and video services to the greater NY, Mass and VT areas. Professionally staffed, agressively priced services are avialable 24hrs aday, 7 days aweek, 365 days ayear.
Video Labs - Phone#
(Rockville, Maryland) -
website
Video Labs is a one stop media shop for inovative multimedia solutions for corporate or private enterprise. Communicate your message, be it 1(call for phone#) DVD copies,a video shoot or editing session, through Video Labs.
True Colors Video Production Services - Phone#
(Binghamton, New York) -
website
We provide videography for weddings, anniversaries, parties, schools, and any special event. Professional equipment results in a top quality final product.
Milestone Videos - Phone#
(Glendale Heights, Illinois) -
website
Milestone Videos has been in Buisness for over 22 years and we have never had a disatasfied customer. We all have degrees in film or video and we really love what we do; Providing creative videography to the public.
SVP Multimedia / Scrapbook Video Productions - Phone#
(Bismarck, North Dakota) -
website
We are known for treating our clients with personalized attention and cutting edge technology. Our dedication to customer satisfaction has earned us an extensive following for creating the most imaginative, well-crafted videos possible since 1991. Our mu
Mantle Films - Phone#
(Hewitt, Texas) -
website
Mantle Films is a wedding and video production company serving Waco, Dallas and Austin Texas. We create modern and professional wedding videos and offer a wealth of experience in video production.
Wedding Films - Phone#
(San Jose, California) -
website
I am a professional videographer with BA in Film. I work for local television stations as well as for the national Film Festival Channel. I interviewed top indie film directors like Coppola and Ray Manzarek the keyboard player from The Doors.
Hyrax Productions - Phone#
(Perris, California) -
website
Hyrax Productions is a professional, low-cost alternative to other video producers or videographers. We capture high quality video, create dynamic graphics, and even create custom animation for your program, all at a lower cost than that of our competitors. Our animation and artistic flair is what sets us apart from the rest.
Real Time Pictures - Phone#
(Cypress, Texas) From Music & corporate video production to simple video tape transfer to DVD, we do it all.
For
corporate event requests with over 300 guests or over $5000.00 you can call us at 1-800-232-6874 ext 7 (commercial events only, not non-profit)
*all prices shown are approximations. Your exact price will vary based on date, time, quantity, location, and other factors.
Vendors/Talent/Businesses/Entertainers-
List your business here
© 2013 All Time Favorites
4C-1.0582478046417