Monroe Louisiana Video production services
- referrals to local Monroe Video production services in LAApproximate Prices for Video production services

National Sponsor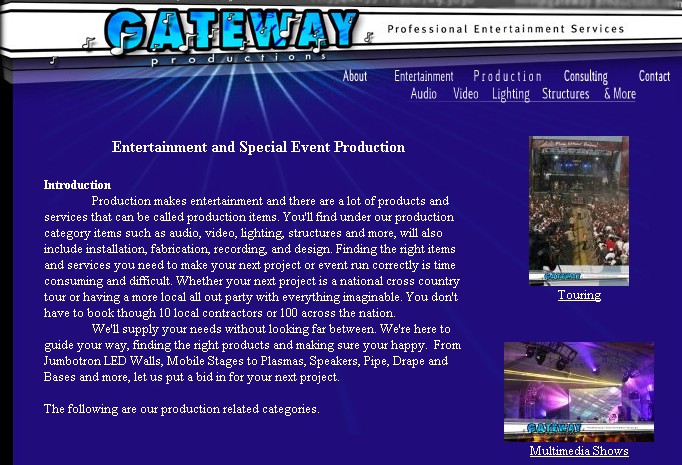 Large Event Production across the USA (minimum budget required $9999)
Before hiring a video production service, check their references and copies of recent projects.
Mack Media Productions - Phone#

-
website
Mack Media is a full service video production company. We specialize in CD,DVD duplication, Tape to DVD transfer, CD-ROM development, streaming media solutions and much more. We deliver competitive pricing and exceptional service. Please contact us to see how we can provide a video production solution for you or your business.
...more vendors providing Video production services nationwide
Video production services serving Monroe, Louisiana
Crusade Productions LLC - Phone#
(Baton Rouge, Louisiana serving Monroe) -
website
We provide the greatest light show. intelligent, laser, hazer, mood. We provide Quality sound support. Your back yard or in a field, we take you production to heart. Our people enjoy & want to produce your event. When you look good we look good.
Spayth Photography & Cinema - Phone#
(Haughton, Louisiana serving Monroe) -
website
My wife and I are Passionate about capturing your emotions with photography and video. We want them to stir your heart every time you see them. Let us create art from your life that will become an instant family heirloom. Give us a call for a free consultation over a cup of good coffee
The Pinnacle Group AV - Phone#
(Lake Charles, Louisiana serving Monroe) -
website
The professionals at The Pinnacle Group have produced over 300 projects. We handle all event needs in house. Everything from Audio, Video, Staging, Production and Entertainment. One call does it all.
Octopus Productions - Phone#
(New Orleans, Louisiana serving Monroe) We offer great audio/video services to everyone, regardless of their budget. We don-t compromise service for lower budgets. Our previous clients enjoyed our rates, services and quick delivery of product.
Additional local businesses nearby
(additional transportation charges might apply for some of these):
Men in Black Staffing - Phone#
(Orlando, Florida serving Monroe) -
website
The business partners involved in Men in Black Staffing have a total of over 35 years in the production field. We started as basic technicians. We have taken the time over the years to learn all aspects of the business. From how to go above and beyond for our clients as well as how to treat our technicians. We pride ourselves on service to you and your customers.
A Pro Vision Production - Phone#
(Mandeville, Louisiana serving Monroe) -
website
Whether you're a local business, Filmmaker, Doctor, Attorney, Band, large corporation, or even a government agency, video is one of the most powerful ways to attract new business and gain repeat clients. We provide our clients a variety of services from camera crews and corporate videos to multi-camera location productions services. Serving the Greater New Orleans, Baton Rouge, Jackson Mobile, Pensacola, (Louisiana, Mississippi, Alabama, Florida Panhandle, East Texas)
Bizmac Media Arts - Phone#
(Jackson, Tennessee serving Monroe) -
website
Bizmac Media Arts offers hi-definition wedding video at an affordable price. In addition to a DVD of raw footage, you will receive an edited, cinematically designed film. Every wedding is different, and your wedding memories should reflect your personality, tastes and all the little moments that make your wedding special.
Additional local businesses nearby:
Memory Imprint Studio - Phone#
(Rancho Cucamonga, California serving Monroe) -
website
Memory Imprint Studio specializes in 3D wedding photo montage,picture slideshow with music,photo restoration, wedding photo album design, video editing and video production for birthday party, weddings invitation and reception, anniversaries, graduations, retirement, memorial services, and all your celebrated moments. We are dedicated to transferring your memories from progressively degrading tapes and negatives into treasured keepsakes.
Optik Studios - Phone#
(Meridian, Mississippi serving Monroe) -
website
Optik Studios is a full service video production house located in Meridian, Mississippi. We can produce your video from concept to completion, including script development, motion graphics, 3D animation, professional narration, as well as field and post production. Using the latest digital cameras, capturing 24 frames per second, your video embodies the look and feel of film.
Bill Cody's Party Time Productions - Phone#
(Plano, Texas serving Monroe) -
website
Bill Cody's Party Time Productions is your number one event & entertainment source in Texas. We feature only experinced & professional DJs-Bands-Entertainers Artists-Magicians-Photographers-Videography-Audio/Visual. Our event source professionals will help coordinate your entire event with just one call. We are there when you need us from 8:30am to 5:30pm Mon-Fri. We take all major credit cards.
CROSSROADS PRODUCTIONS - Phone#
(JACKSON, Tennessee serving Monroe) -
website
Capture Your Dreams with a cinematic film of your wedding day. You enjoy each other. We will take care of the memories. Your day will be filmed by professional videographers who use the latest camera technology and have over 5 years of video experience. We do what it takes to create a wonderful DVD of your special day. So, check us out today. Hurry your wedding day is just around the corner.
Take Two Video Productions - Phone#
(Biloxi, Mississippi serving Monroe) -
website
Take Two Video is recomended highly by coast casinos, photographers and DJ's on the Mississippi Gulf coast. Take Two Video shoots in cinematography movie style unlike our competitors
Over The Edge Studios - Phone#
(Texarkana, Texas serving Monroe) -
website
Specialize in digital video & audio production, interactive media, and live musical performance. Our passion is creating artistic compositions that capture memoirs in an elegant, emotional & entertaining work of art. Artistic wedding cinematography, s
Photography Treasures - Phone#
(Covington, Louisiana serving Monroe) -
website
Photorgaphy Treasures continues to capture your wedding & special occassions with an Artistic & creative style. For memories that last forever.
View many local Monroe Louisiana Video production services and Video production services right from this page for your LA event.
---
To easily search for more vendors we suggest searching for

Video production services Monroe
Custom Search
---
BEST option is to request quotes at the top of this page

Additional vendors who may service Louisiana
(additional transportation charges and minimum budget requirements may apply):
Hollywood Graphics Videography - Phone#
(Sugar Land, Texas) -
website
Hollywood Graphics Videography Bringing the art of Hollywood to your home is what we do best, time and time again since 1996. Creating heart warming memories that will never get old. Hollywood Graphics Videography provides videography services for Weddings and Events within Houston Texas and nearby cities. Estimated Prices: Great packages to choose from - $1095.00 to $1695.00 which can be customized as well.
Sight Effects Creative Services - Phone#
(NYC, New York) -
website
Sight Effects Creative Services has been staging corporate conferences, awards programs, and special events for many of the worlds leading corporations and non-profit organizations for more than 20 years. Our event services include direction and management, lighting, audio, set design and construction. We offer production services, such as video editing, video production, animation, and PowerPoint. Services include Webcasting and could be the perfect way to reach your target audience.
Studio One Event Services - Phone#
(SOUTH BEND, Indiana) -
website
Studio One provides a complete turn key av operation for your meeting or event. We can provide lighting, staging, sound, video screens & projectors, masking curtains and crews to make your event a success. No matter whether it is a break out room for 10 or a main room of 10,000 we have the AV that will make your event a success
Indian Desi Punjabi Sikh South Asian Muslim Wedding Photographers Photography Videographers - Phone#
(New York, New York) -
website
Your special moments can only be captured once. Making them last forever is our promise to you. Our rates are reasonable and our reasoning is priceless. We as Professional Photographer and Videographer, capture both styles, classical and the documentary story. FREE POSTER - FREE 16- x 20- poster of your selected picture when you book us for your Wedding and other events.
Crystalux Video Productions - Phone#
(Cincinnati, Ohio) -
website
Crystal clear videography. Our videographers have experience including projects for television, NCAA sports, corporations, non-profits, the Cincinnati Art Museum, weddings and events. Call or email us to see how our videos can help tell your story.
RenoVideography.com - Phone#
(Reno, Nevada) Wedding, graduation, parties, reunions and other event videos. We use state of the art equipment and computer editing to create a memorable movie for you and your family.
Greg Gulbrandsen - Phone#
(Bend, Oregon) -
website
The Central Oregon Source for Pro Video and Digital Imaging Solutions.
Charisma Films - Phone#
(Dallas, Georgia) Elegant Wedding Videography by the Finest Videographers in Georgia. Get the Experience and Creativity You Want! We Use 3CCD Digital Cameras and Offer DVD at No Additional Cost! On-Line Wedding Demo Available!
For
corporate event requests with over 300 guests or over $5000.00 you can call us at 1-800-232-6874 ext 7 (commercial events only, not non-profit)
*all prices shown are approximations. Your exact price will vary based on date, time, quantity, location, and other factors.
Vendors/Talent/Businesses/Entertainers-
List your business here
© 2013 All Time Favorites
4C-0.71458697319031