Wedding DJ Prices. Approximate Prices for Wedding DJ
Approximate Prices for Wedding DJ.
Best Wedding DJs.Free referrals to very good wedding djs near you. With over 20 years experience in event planning, we tried to come up with the best wedding dj listings. Browse the listings below or simply click the request quote link to save time.

For recommendations on the best wedding DJs we know in your local area call us at 1-800-232-6874 ext 7 (free referrals)
25 years in the DJ industry. Over 1500 DJs on file. We match you up to the best local DJ for your event.
Scroll down for photos and pricing
A good wedding DJ will have a very good checklist in advance to help you plan your night from first dance, bouquet toss, father daughter dance all the way through the types of music you prefer and interaction level from your wedding dj.

New! How to avoid mistakes in hiring your DJ and what should really be in your Disc Jockey contract to avoid disaster - Click to read this article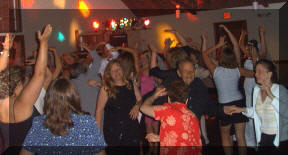 *Small towns/rural areas basic DJ 350-595 in general. High-interaction or DJs with over 10 years experience 595-1200.00 Major cities / suburbs basic DJ 595-895. High-interaction or DJs with over 10 years experience 995-1695.00
If you really want to be safe when purchasing a DJ, always ask to see a video demo or see a performance live, at the very least meet with the DJ before booking them.

ALL prices are approximate and listed here to assist you in pricing and budgeting.
vendor 2900 from Joplin Missouri approximate prices:Private events (pool party, bar-b-que, birthdays) start at 200.00 . Special events (weddings, class reunions, school dances) start at 400.00
vendor 1 from Eagan Minnesota approximate prices:We are not the lowest prices but we have excellent DJs. Prices range from $595.00 to 1295.00 for weddings and corporate events. Prices vary based on type of event, date, time and location.
vendor 1296 from Columbus Ohio approximate prices:4 Hours $500.00 5 Hours $600.00 6 Hours $750.00 7 Hours $865.00
vendor 8314 from Newport Michigan approximate prices:Events Starting at $295
vendor 1629 from Minotola New Jersey approximate prices:Regular parties like birthdays,anniversaries,christenings,etc. range from $250.00 to 1,500.00. Weddings:$500.00 to $2,000.00 Bar/Batmitzvahs;$600.00 to $3,000.00 Corporate;$400.00 to $2,000.00
vendor 950 from Circle Pines Minnesota approximate prices:DJ Kevin-s Mexican Fiesta Party Video on file. DJ and fun show.
vendor 7138 from Philadelphia Pennsylania approximate prices:Wedding Prices 5 hours $695.00 4 hours $595.00 Parties 5 Hours $350.00 4hours $300.00
vendor 6832 from Chapel Hill North Carolina approximate prices:Please call or email for a quote.
vendor 7086 from Shawnee Oklahoma approximate prices:$400 for up to 4 hours of music and fun. Lighting included.
vendor 1798 from Saugus Massachusetts approximate prices:Prices vary depending on service/entertainer, location, duriation of event etc
vendor 815 from Hastings Minnesota approximate prices:Everthing is included in our rate. There are no hidden costs.
vendor 4877 from Chaska Minnesota approximate prices:A typical show is $600 for about 4 hours of music.
vendor 1758 from Lakewood Colorado approximate prices:Packages available for all budgets starting as low as $150. to $1,000. for Hall DJ combo pkg
vendor 13878 from Massillon Ohio approximate prices:For DJs approximately $499 for 4 hours basic package. Musicians prices are based on the number of musicians, and hours needed. Ranging from $150-$5000 per event
vendor 2286 from Phoenix Arizona approximate prices:$100-150 per hour
vendor 7515 from Calabasas California approximate prices:Prices for photo/video start from $1,595 plus tax/travel. Prices for DJ starts from $450/4 hours plus travel.
vendor 5051 from La Marque Texas approximate prices:$400 flat rate includes all equipment and services, $75/hr thereafter. Wedding and private party specialists. Sorry no nightclubs.
vendor 9071 from Red Lion Pennsylania approximate prices:My prices range from $150 min. up to $1100
vendor 10084 from Brooklyn New York approximate prices:Weddings: $700 and up. School Events: $400 and up. Proms $700 and up. Personal Events $500 and up.
vendor 11450 from Framingham Massachusetts approximate prices:Each and every event is very special to me and each one has its own sets of criteria.I will help you design both a professional and cost effective entertainment solution for your event.Call anytime the phone consultation is free.No high pressure sale when you call.Just good solid info.
vendor 7718 from Lincoln Rhode Island approximate prices:I have 3 different packages as my website will attest to. Low-end package starts at $450 - Middlle package $500- Premium package $700.
vendor 6089 from Aloha Oregon approximate prices:We charge $100.00 per hour with a minimum 3 hour show. A required $100. deposit will apply to the event. Contact us for packages incorporating time and Karaoke with regular DJ services.
vendor 1853 from Blue Earth Minnesota approximate prices:School dances up to 4hr- $350, includes lights, $300 without lights. Outdoor events up to 6 hrs $400 and no lights Weddings- $600, up to 8 hours 2 of these hours are dinner music and include setup, and transportation and full light show
vendor 8930 from Moreno Valley California approximate prices:We charge approximately $100 dollars an hour, less or greater depending on how long the event is. The longer it is or the more events we schedule from you, we give you a better rate per hour.
vendor 44390 from Eagan Minnesota approximate prices:Prices vary a lot based on type of event, hours and location.
vendor 6369 from Des Moines Iowa approximate prices:Being a premium service we are not for people looking for the cheapest DJ. We have a complete wedding reception entertainment package that includes 5 hours of music for $595.00 Additional entertainment can be purchased at $25.00 per half hour thereafter.
vendor 5295 from Round Rock Texas approximate prices:Change fees from $450 to $550
vendor 7327 from converse Texas approximate prices:DJ and/or Karaoke $300 Live band depending on the size of the band ranges from $600 to $1100. DJ and Live band package start at $1300
vendor 9977 from Sylvania Ohio approximate prices:Example:From $599.00 to $999.00 depending on date, time, and location.
vendor 6011 from Tonganoxie Kansas approximate prices:DJ...$100 - $1000 Performance...$50 - $500 Singing Tele...$50+ Wedding Planner...$500+
vendor 6083 from Akron Ohio approximate prices:Prices range from $450 to $750 depending upon the number of hours and day of the week.
vendor 10414 from Duluth Minnesota approximate prices:Please contact us for pricing
vendor 4972 from Gresham Oregon approximate prices:Our rate begin at $500.00 for the 1st four hours and $50.00 an hour after
vendor 7201 from Virginia Beach Virginia approximate prices:$250.00 to $800 depending on the hours
vendor 4395 from Fresh Meadows New York approximate prices:Basic – 4 Hours Of Continuous Music With 1 DJ/MC And Quality Full Range Digital Sound System $ 750.00 Silver – 4 Hours Of Continuous Music With 1 DJ & 1 MC And Quality Full Range Digital Sound Sys
vendor 7405 from Burr Ridge Illinois approximate prices:weddings are $425 for 4 hours. Extra hours are only $50 each.
vendor 8619 from St Augustine Beach Florida approximate prices:From $495 to $995 depending on date, time and specific event needs
vendor 4397 from Nashville Tennessee approximate prices:Prices vary based on the day of the week verses the type of event. Example: Day Pool party = 350.00 High end Bar/Bat Mitzvah with staff and props etc = up to 2500.00 Corporate events average = 695.00
vendor 5729 from Yorkville Illinios approximate prices:prices vary depending on location. $850-$1200
vendor 7975 from Post Falls Idaho approximate prices:Prices are negotiated based on time required, distance traveled, etc.
vendor 10337 from Springfield Ohio approximate prices:Jerry T. standard fees range from $200 to $800 for professional and fun DJ and Emcee service, sound and lights, video projection, and picture CD. We negotiate prices to meet your requirements and budget, and we gladly accept all major credit cards.
vendor 2851 from Appleton Wisconsin approximate prices:Birthday/anniversary parties - $300-500 Weddings/corporate events - $450-600
vendor 7482 from fremont California approximate prices:bay area djs bay area dj bay area disc jockey bay area disc jockeys san francisco dj san jose dj prices vary click on link...
vendor 5275 from Houston Texas approximate prices:Wedding packages starting at $800 and up. All other packages are on an event by event basis.
vendor 5170 from SLC UTah approximate prices:Minimum package is $220 for he first two hours. Then it goes up from there.
vendor 1522 from Warminster Pennsylania approximate prices:From $300.00 to 1000.00

vendor 9347 from Coral Springs Florida approximate prices:Because of the wide variety of what we offer, it is impossible to list. Each event is treated differently...number of hours, location, etc.
vendor 10479 from Sharon Massachusetts approximate prices:Our lowest priced entertainers start at around $175 for the first hour of time. DJ's start at $350, Bands at $1500 and go up from there. National acts and Celebrities range from $2500 to $1,000,000,000!
vendor 2197 from Orlando Florida approximate prices:We start at $300 (depending on location/sound equipment needed). Light show & Fog machine $50 extra
vendor 10009 from Pikesville Maryland approximate prices:From $500.00 to $1500.00 depending on date, time, and location for 4 hours.
vendor 5322 from Charlotte North Carolina approximate prices:$375 for 4 hours in Charlotte. $425 to $475 in Greensboro, Raleigh, Durham. $50 each additional hour.
vendor 4042 from Milwaukie Oregon approximate prices:From $600.00 to $1000.00 depending on date, time, and location for four hours.
vendor 3129 from HOUSTON Texas approximate prices:DJ services = $1200 starting Catering=10pp starting Bands=$2000 starting Soloists= $100 STARTING Trio=$200 starting Quartet=$300 starting
vendor 2971 from Hoffman Estates Illinois approximate prices:we work with different markets and price accordingly to what they are booking.
vendor 8479 from Phoenix Arizona approximate prices:Competetive pricing for quality entertainment.
vendor 4002 from Bristol Rhode Island approximate prices:Wedding prices from $700
vendor 5618 from richmond Virginia approximate prices:$75 TO $100 Dollar an hour
vendor 12004 from Hawaii Hawaii approximate prices:Music services for parties are generally about $100 per hour. Rental equipment prices start as low as $25 per item and always include complimentary delivery, setup and removal.
vendor 5890 from Surprise Arizona approximate prices:Starting from $750.00 for up to 4 hours. More time available at reduced rates.
vendor 10372 from holt Michigan approximate prices:Djs will start at $450 and range to $995 magicans will start out at $150 and range to $1500 all other services price range from $100-$5000
vendor 9532 from Pikesville Maryland approximate prices:Disc Jockey rates vary based on talent, experience, emcee ability, service, coordination, equipment needed, music knowledge, mixing ability and personality. Our rates vary, ranging from $250.00 to $2,500.00 with an average of $800.00 for a 4 hour bo
vendor 10923 from Denver Colorado approximate prices:All shows and rates are based upon an hourly charge that we will customize to fit within your budget and show preferences. Call or log-on today for a precise rate quote.
vendor 7318 from Worcester Massachusetts approximate prices:We charge $100 per hour which includes everything we do. We do Karaoke, teach lessons, do tv trivia for the price we charge. Some dj-s charge more for every little thing they do extra. Not us, the money we charge, covers everything we do.
vendor 10628 from Shirley New York approximate prices:Prices range from 300.00 to 200,000.00 depending on the clients budget and needs.
vendor 5429 from Somerville Massachusetts approximate prices:4-5 hour gig in the price range of 300 - 400 dollars
vendor 1425 from Aurora Colorado approximate prices:125.00 Per Hour (First 4 Hours) 85.00 Per Hour (Each Additional Hour Booked In Advance) 95.00 Per Hour (Each Additional Hour Booked Day Of Event)
vendor 3667 from Livermore California approximate prices:$450.00 for a 3 hour Event. $100.00 per hour Thereafter. Lighting Package A: 4 lights W/Fog $75.00 Lighting Package B: 8 Lights W/T-Bar Stand, W/Fog,$125.00 Lighting Package C: 14 Lights,Lighting Truss,Fog, $200.00
vendor 1861 from Milwaukee Wisconsin approximate prices:Our price for a six hour all-inclusive wedding is $1100
vendor 10164 from Golden Colorado approximate prices:All inclusive set up, average $125-$175 per hour, four hour minimum. We will give discounts to charities and non-profits. Some events we will charge more, depends on circumstances. Set-up, tear down, and in most cases, travel are free. We charge only f
vendor 5444 from Pittsburgh Pennsylania approximate prices:Event and Wedding rates are between $600 and $1100, depending on location and number of guests. Professional JBL sound system and large Professional lighting system available.
vendor 2909 from Plainfield Illinois approximate prices:Rates range from $400 to $1500 depending on date, time and location. A typical 5 hour package is $895 which includes two disc jockeys and lighting.
vendor 5097 from Placentia California approximate prices:Our services start at $175 for an hour and a half School dance up to about $100 an hour for longer dance. 4 hours $400. This includes lighting. Our weddings start at $645 for 4 hours $775 and $895 for 5 or 6 hours. We also have lighting effects for $75
vendor 9109 from Arnold Maryland approximate prices:Complete Wedding Reception: $500.00
vendor 7424 from Fayetteville Tennessee approximate prices:A basic Wedding reception(Approx. 5 hours) with a basic or no light show - $450 A big Wedding Package with up to 8 hours of music for Ceremony and reception - $650 w/ 1 sound system and $750 if the 2nd Sound system is needed for the ceremony. Company/
vendor 3036 from Raleigh North Carolina approximate prices:weddings start at $499 / 4 hours
vendor 5436 from San Deigo California approximate prices:Our prices rang from $250 and up depending on the type of event, locations, amount of guests, etc...
vendor 3178 from Whitehouse Ohio approximate prices:Average range for the Toledo area.
vendor 4585 from St Louis Missouri approximate prices:A four hour wedding reception with our basic light show which also includes a dj and emcee team, starts at $500.00. Our complete light show which includes mirror ball, fog machine, effect lighting and an intelligent effect light for four hours is $575.00
vendor 5525 from Oldsmar Florida approximate prices:prices are $75 - $100/hour depending on the event and requirements.
vendor 6904 from Greensboro North Carolina approximate prices:Minimum Rate for DJ services is $500.00
vendor 9381 from Long Beach California approximate prices:From $85.00 to $300.00 hr. depending on date, time, and location.
vendor 5473 from Chicopee Massachusetts approximate prices:* Weddings $1000.00 + * Other functions depending on the package they purchase.
vendor 3059 from Arlington Texas approximate prices:We charge 440.00 for up to 4 hours for a wedding reception in the DFW Metroplex.
vendor 3957 from Corvallis Oregon approximate prices:$249.oo for 4 hours and $25 per 1/2 hour overtime, non saturday events can be as low as $199. travel is $50 outside my circle

Wedding DJ
Vendors/Talent/Businesses/Entertainers-
List your business here
© 2013 All Time Favorites
All Time Favorites Event Planning Directory
Event Planning Directory of Entertainers, DJs, Halls, Audio-Visual, Party Rentals for Corporate events, weddings and any event.
Anything you need for your corporate event, convention, wedding ceremony or reception, public event, festival, or private party anywhere in the USA and Canada. Find and get quotes from entertainers, DJs, live bands, audio-visual rentals, caterers, party rentals, event production companies, halls and venues, audio visual services, speakers, decor professionals and more.
2C-